World Class Data Center Colocation
Equinix Data Center, Inc. (Nasdaq: EQIX), connects more than 4,500 companies directly to their customers and partners inside the world's most networked DC. Today, enterprise, cloud, networking, digital media and financial services companies leverage the Equinix interconnection platform in 32 strategic markets across the Americas, EMEA and Asia-Pacific.
By connecting directly to their strategic partners and end-users, customers are forming dynamic ecosystems inside Equinix. These interconnected ecosystems enable companies to optimize the performance of their content and applications and protect their vital digital assets.
Equinix Data Center provides a total of 26,600+ square meters (287,000+ square feet) of colocation space in three state of the art data centers, with our latest Singapore facility, SG3, recently opened in Q1 2015. We can help get you up and running in Singapore with a rich portfolio of services, from expert consultations with our Global Solutions Architects, who can design and optimize your colocation and network services, to our Smart Hands™ support team for remote management.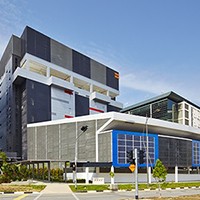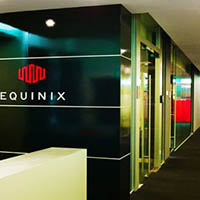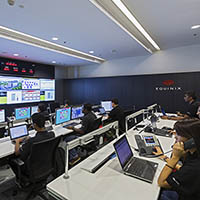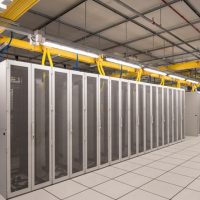 Infrastructure
| | |
| --- | --- |
| | Colocation Space of 30,897 square feet |
| | 7 Story Purpose built reinforced concrete structure |
| | Rasied Floor with load capacity 12.5KN/m2 |
| | Fire Suppression: VIEW smoke and heat detectors, double-interlocked pre-action sprinklers (dry pipe) |
| | Amenities: Break Room, Loaner Tools, Showers, Crash Carts, Work Kiosks, Wifi, Conference Room |
Power and Cooling
| | |
| --- | --- |
| | Power and Cooling Density 3.0 - 5.0 KVA per cabinet |
| | Utility Feeders: 2 |
| | UPS Configuration: 2N |
| | UPS Redundancy: 2N |
| | Standby Power Configuration: 4 x 2500 KVA diesel generators |
| | Standby Power Redundancy: 2N |
| | Cooling Configuration: CRAC units and water-cooled centrifugal chillers |
| | Cooling Redundancy: N+1 (on chillers) and N+20% (on CRAC units) |
Security
| | |
| --- | --- |
| | Physical: Man trap entry, perimeter fence and gate |
| | Human: 24x7 Security Officers |
| | Electronic: Biometric Readers (in common areas), Biometric Readers (optional) , PIN & Card Readers, CCTV and Recorders, Motion Detection |
Reliability
| | |
| --- | --- |
| | Our IBX data centers boast an industry-leading, high average uptime track record of >99.9999% globally |
Certification and Sustainability
| | |
| --- | --- |
| | Certifications: SSAE 16/ISAE 3402 SOC 1 Type II |
| | Certifications: ISO 27001 |
| | Certifications: PCI-DSS |
| | Green By Design SS 564 Part 1: 2013 SG Standards for Green DCs |
| | LEED Gold (pending) |
| | Granular temperature monitoring |
| | Optimized lighting controls |
| | 356 kWp soloar power purchase agreement |